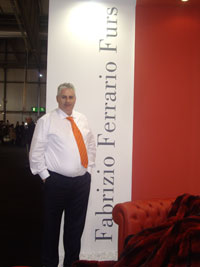 Fabrizio Ferrario founded his fur in 1992, in 2008 changed its name to Fabrizio Ferrario Furs, and from 2011 has added a line of home products with the brand Fabrizio Ferrario Furs House.
This is to certify since its beginnings as a workshop, specializing in the manufacture of high-quality leather, a continuous evolution and growth of the brand, through the sale of its products to "adjoining studio and distribution of its products in foreign countries, traditional and emerging markets.
The furs Fabrizio Ferrari is a member of the "AIP" Italian Fur Association, "and joins the project OA Origin Absurd" for the protection of species reared and protected.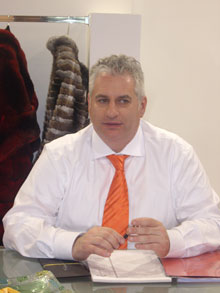 Fabrizio Ferrari started his working life as a boy, to "an internal workshop in Via Manzoni corner of Via Monte Napoleone in Milan, immediately stands out for its creativity and ability to work, the last five years as an employee passes at a small firm in via Monte Napoleone, it will be determined after an amazing job cultivates a desire to open his own workshop, an event tha happens in January 1992, just 24 years of age, to seize 20 km north of Milan, still canter of 'company.
The passion, perseverance and determination led him immediately to grow quickly, after about 4 months first extraordinary investments, adjacent to the laboratory creates a showroom for the sale of its products, in 1994 the launch of Leather Laura Castillo by Fabrizio Ferrari, in 1997 the first two lines show the event will be repeated in 1998 and 1999, the head Ferrario and now signed Fabrizio intake of refined and elegant woman of the territory.
In 2008, the deep restructuring, the brand was born and then Fabrizio Ferrari Furs brand house fur products for the home, the "company does not lose its handcrafted nature MADE IN ITALY, almost exclusively using high quality materials, sable, chinchilla, mink and cachemire, defined luxury collection from 2009 is presented in March at the international fair MIFUR, luxurious, and refined taste great and are currently distributed in Italy and in foreign countries traditional and emerging markets.