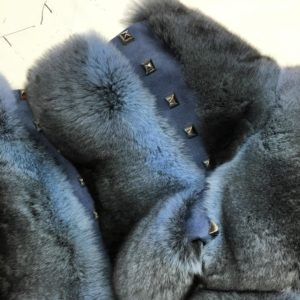 Modern and colorful, the Fall/Winter 2019-2020 collection by Fabrizio Ferrario Furs discovers a younger and feminine soul where fur, iconic material, becomes flexible and even more precious. Zibellino, Chinchillà and Mink are combined with cashmere, silk or are transformed into edges to embellish maxi scarfs and stoles that exude a playful and refined luxury.
As reported by the online Magazine We are Fur, fur remains one of the most fascinating gifts of nature, appreciated for its beauty and its ability to provide warmth. It evokes a myriad of emotions and has a charm that transcends time. It is one of the most tactile and versatile raw materials of fashion, able to surprise consumers with these characteristics.
The fur collection Fall / Winter 2019-2020 Fabrizio Ferrario Furs is almost ready, here is a taste of the news that we will present online, in Showroom and in Boutique in Cannes:
The long fur coat: the long and soft furcoat is on the podium of choice for those who love this winter coat. The lengths are accentuated up to the ankles and among the models dominate trench together long belts to be tied tight at the waist for a bathrobe effect, but with style.
The oversize fur coat: for oversized fur coats we mean large fur winter wear. The cut is mostly an egg, narrow below and above and wider in the center, and aims to hide the defects to live more and more easy, although chic.
Short fur jacket or bolero: from the very long to the short it's a moment. Another absolute arrangement is the short in a minimal key. Short boleros to be confused with the use of a maxi scarf and to wear over old coats or light down jackets. Mini bomber and narrow hoods that cover just the neck and bust.
Fur coat with short sleeves and an important collar: a fur vest with a short sleeve, perhaps in sable or shaved mink and abundant collars. The call is that of urban art par excellence, where you learn by contamination and attempts and where fashion is a personal achievement.
Very colorful fur coats: pink, pop green, electric blue, amethyst violet in line with the eighties trend flou. Discretion, goodbye, we will all be Iridelle and in fluid and gaudy models.
Color is not new, but the blades so bright on the fur yes. Fur is a material to be experienced and also to be painted and decorated, this is the real imperative for the winter season 2019/2020.